This is not a full ManicTime Windows port to Linux. It is a tracker, which can send computer usage data to
ManicTime Cloud
or
ManicTime Server
, where you can view the reports.
Before you install it on Linux
Linux version uses ManicTime Server for User interface. You have two options, either:
After you've completed signup (or finished setting up your own server), continue with installation.
Installation
1. Download and install package
Ubuntu, Mint
Download ManicTime.deb and double click on it to start installation.
Debian
Download ManicTime.rpm and run it with
sudo dpkg -i ManicTime.deb; sudo apt -f install -y;
CentOS and RedHat
Download ManicTime.rpm and run it with
sudo yum install <downloaded file>.rpm
Other Linux distributions
There are some packages you need to install before ManicTime will start working. These packages are different on different Linux distributions, so you will need to find comparable packages on your distribution. The following are lists of required packages on Ubuntu and CentOs (note that if you use Ubuntu or CentOs, just use the installer which will install these packages).
Ubuntu

libc6-dev
libx11-dev
libappindicator3-1
libxss1
gss-ntlmssp
libkrb5-3

CentOs

libX11-devel
libappindicator-gtk3
libXScrnSaver
gssntlmssp
openssl-libs
krb5-libs
Once you have similar packages installed for your distribution, download ManicTime.tar.gz, extract to some folder and run it with
./manictime
Troubleshooting
If you have problems installing or running ManicTime, you may need to:
update OS to latest version
2. Run ManicTime
Run ManicTime from StartMenu/Applications/Office/ManicTime. If it runs successfully, you should see ManicTime icon in the status menu bar.
When you open the app, choose Cloud license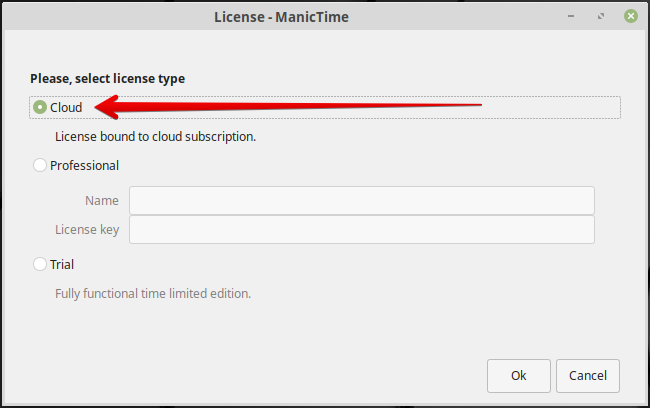 Choose cloud license
Then enter your username and password to connect to the cloud.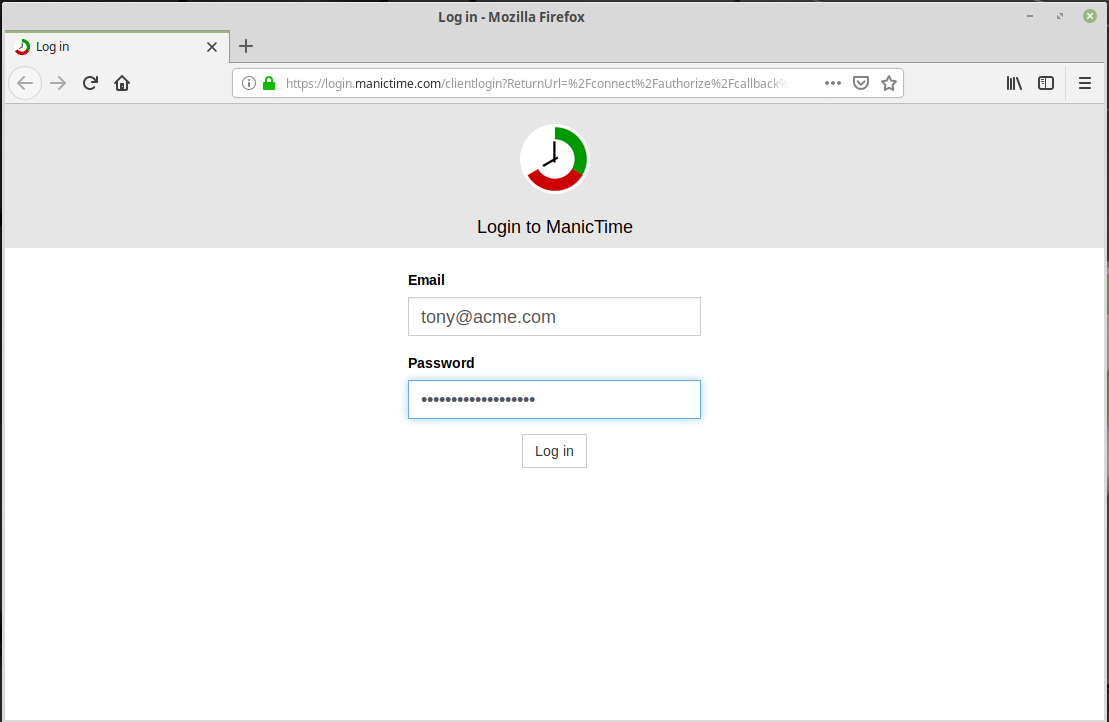 Connect to ManicTime cloud
Now you can click on ManicTime icon, choose "Go to server". On the server, you should now see data from Linux.

View data to server
You can setup your own ManicTime Server, it can run on either Linux, Mac or Windows. A lot about how to setup ManicTime Server is written
here
.
Once the server is up and running, check if it works ok from your Linux machine. Open a browser and navigate to ManicTime Server.
If you can get to the server and everything looks ok, click on ManicTime icon and click on Configure server, then enter the ip and port information of ManicTime server.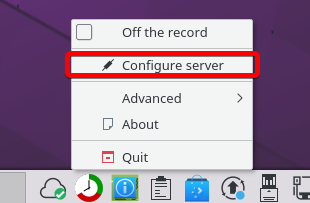 Open server connection window
Then enter your username and password (if server is using Windows authentication, then these are your Windows credentials, same as when you login to Windows).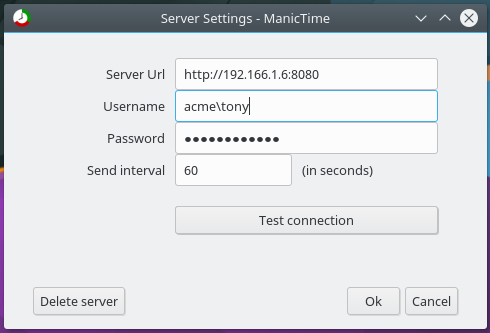 Server connection window
Then go to the ManicTime server, Administration, Connected devices. You should see Linux machine under connected devices. You should also see data coming from Linux on Timelines report.

View data to server
You can also view the data in ManicTime for Windows.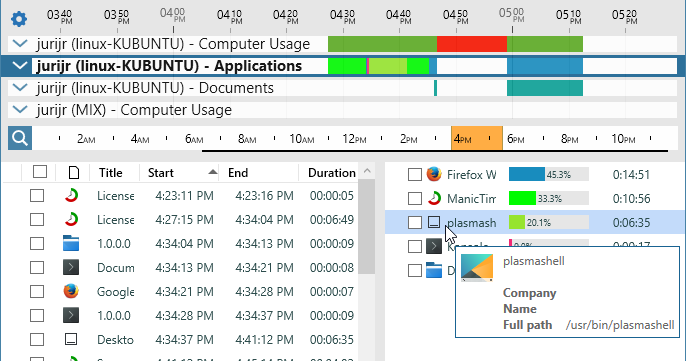 View data in ManicTime Windows